Highland Raider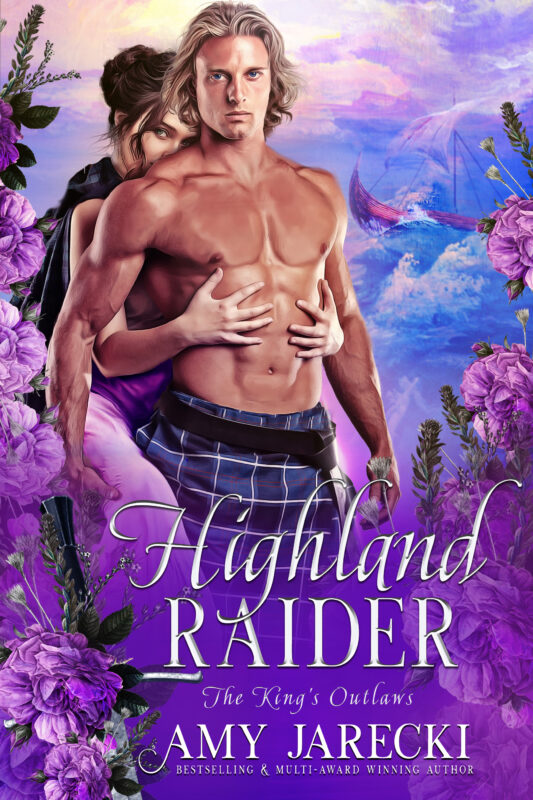 As Angus MacDonald escapes the English army, it's not a man who challenges him in a hidden birlinn. A wee wisp of a lass faces him with a battle axe in her hands.
When Angus Og MacDonald, Lord of Islay agrees to harbor Robert the Bruce from the clutches of King Edward, he becomes an outlaw of the English crown. They sail to Ireland, seeking support from kin but are forced to flee for their lives. As Angus escapes, it is not a man he finds hidden in his birlinn. A wee wisp of a lass attacks like a screaming banshee with a battle axe in her hands. Then the wrath of God erupts in a violent storm, smashing the boat to smithereens. Now, Angus fights for survival, hell bent on saving them both.
Anya O'Cahan awakes half drowned in a tiny chapel on a deserted isle with none other than Fairhair, the man with the devil's heart, the vile brother of the beast who killed her Da. Terrified out of her wits, she does everything in her power to escape the Highlander's clutches. But Anya's attempts are thwarted by the cunning, far too beautiful lord. Worse, Angus takes her before the King of Scots who seizes her as a political prisoner and thrusts her into the care of none other than Fairhair himself. Will this union of two hated rivals plagued by unwanted and uncanny attraction erupt in passion or war?